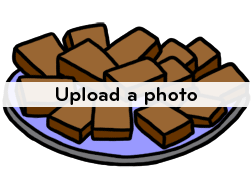 From the kitchen of Amanda F
Hope you enjoy making my Peppermint Creams! Enjoy!!
Recipe Details
Ingredients
8 ounce (225g) icing (confectioner's) sugar, sieved
1 egg white
few drops peppermint flavoring
few drops green food coloring (optional)
3.5 ounce (100g) bar of dark chocolate, melted
1 supercook writing pen (optional)

Directions
Notes: Weigh out the ingredients and make sure the melted chocolate will be cool enough for the children to handle. Put greaseproof paper on a board and let the children begin.
Put the Icing Sugar in a bowl and mix in the egg white to form a stiff paste. Add a few drops of peppermint essence and food coloring, if using.

Knead the mixture in the bowl to make sure all the icing sugar is mixed in. Put the dough on a work surface and roll it out to 1/4 in (1/2 cm) thick.

Use a plain cutter to stamp out small rounds, then transfer them onto greaseproof paper.

To decorate, dip the creams in the melted chocolate to half cover them or use the writing pen to ice hearts or anything else you can think of. Leave to set for a few hours.
Reviews
Log in now to rate this recipe.

Girlcracra says:
very good
12/21/2015 12:07:48 PM

RedFaceLogo785 says:
Delicious! Thank you Amanda!
11/11/2012 2:42:39 PM
Other Tasty Treats You Might Enjoy
Fudge and Confections
American Fudge and Confections
Minty Goodies