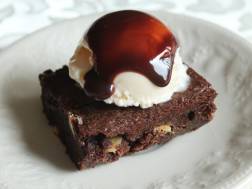 Sand Art Brownies

From the kitchen of Gshepherd
This recipe has been on northpole.com from the beginning… since 1996! We hope you enjoy this classic North Pole recipe. Let us know your opinion by submitting a review!
Recipe Details
Ingredients
2/3 teaspoon salt
1/2 cup plus 1/8 cup flour
1/3 cup cocoa
1/2 cup flour
2/3 cup brown sugar
2/3 cup sugar
1/2 cup semi-sweet chocolate chips
1/2 cup vanilla-flavored baking chips
walnuts to fill jar (about 1/2 cup)

Directions
Place ingredients in order listed in a quart-sized jar.

Tamp ingredients down gently after each addition.
Attach the following directions to the jar:
Mix with 1 teaspoon vanilla extract, 1/2 cup vegetable oil, and three eggs.

Spread into a greased 9x9 pan and bake at 350 degrees for 30-40 minutes or until done.
Reviews
Log in now to rate this recipe.

Pwinc123abc says:
I love it is a littel to sweet 2/3 white sauger 2/3 brown way way way to SWEET
12/22/2014 12:11:39 AM

afsana66 says:
i love this it is really yummy they loooked so pretty in the jar i love the ice cream part much!!!!!!!!!!!!!!!!!!!!!!!!!!!!!!!!!!!!!!!!!!!!!!!!!!!!!!!!!! : ~ )
1/6/2013 1:09:44 PM

csmith258 says:
i tried it and it's awsome!!!!!!!!!!!!!!
12/21/2012 5:06:27 PM

kaki2k12 says:
delicous
12/9/2012 3:36:16 AM

Mary says:
These are so yummy! The ingredients look pretty in the jar, so it's a great gift idea. When baking them, I used coconut oil instead of vegetable oil and omitted the walnuts. These are so good; I wish I could give it more stars! They are gooey, chewy, and very rich! Put a scoop of ice cream on top, and you have brownie à la mode.
11/5/2012 7:07:47 AM
Other Tasty Treats You Might Enjoy
Cookies
American Cookies
Brownies & Blondies