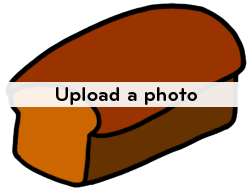 From the kitchen of M Burker
This has been a favorite for our family for at least 25 years. I hope all will enjoy it. Merry Christmas to all.
Recipe Details
Ingredients
1 teaspoon baking soda
1 cup boiling water
1 cup dates, chopped fine
1 tablespoon butter
1 unbeaten egg
1/2 cup packed brown sugar
1/2 cup chopped walnuts
1 1/2 cups flour
1/4 teaspoon salt
1 teaspoon vanilla

Directions
Preheat oven to 350 degrees.

Sprinkle soda over dates, pour boiling water over dates and let stand.

Mix butter, egg, brown sugar and walnuts.

Add flour, salt, vanilla and dates. Cream together.

Bake in a loaf pan for 45 minutes or until fork comes out clean when testing.
Reviews
Log in now to rate this recipe.

Mckenna says:
i like it sort of
11/4/2012 4:10:04 PM
Other Tasty Treats You Might Enjoy
Breads
American Breads
Quick Breads