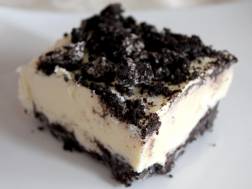 Oreo Surprise

From the kitchen of Christina
This recipe has been on northpole.com from the beginning… since 1996! We hope you enjoy this classic North Pole recipe. Let us know your opinion by submitting a review!
Recipe Details
Ingredients
1 package Oreo cookies, crushed, reserve 1 cup for topping
1/2 cup oleo, melted
1 large package vanilla instant pudding
2 cups milk
1 package (8 ounce) cream cheese, softened
1 tub (8 ounce) of Cool Whip

Directions
Mix together cookies and oleo; press into a 9 by13-inch pan.

Mix pudding, milk and cream cheese together, beat with cool whip and put on cookie crust.

Then sprinkle with remaining cup of cookie crumbs and freeze.
Reviews
Log in now to rate this recipe.

maggie1234 says:
This is so delicious! Yummy!
10/30/2017 5:37:44 PM

loredanapopa says:
delicios
1/13/2017 9:57:56 AM

091613 says:
This is amazing. My mother & I love it
12/12/2016 2:24:15 PM

gk1 says:
I like the recipe
11/16/2016 8:55:32 PM

ACTTEST says:
I LOVE IT! We used 16 oz. of Cool Whip on it. AMAZING!!!!!!!!!!!!!!!!!!!!!!!!!!!!!!!!!!!!!!!!!!!!!!!!!!!!!!!!!!!!!!!!!!!!!!!!!!!!!!!111
6/29/2016 11:47:00 AM

fettywap679 says:
this is the best tasting treat ever my kids love it
12/15/2015 3:02:49 PM

Coocoo123 says:
I love it
10/28/2015 8:49:08 AM

kaismanise says:
i must tell you my class loved it for there shared lunch some of there comments i almost fainted its so good yumm in my tum tum it melted in my mouth best thing ever delicous oreo taste like food witch is yummy
12/18/2014 5:18:53 PM

43916 says:
YYYYYYYYYYYYYYYYYYYYUUUUUUUUUUUUUUUUUUUUUUUUUUUMMMMMMMMMMMMMMMMMMMMMMM tastic
12/10/2014 2:09:32 PM

kaylee16 says:
It tastes great.It It is awesome.
12/4/2014 9:05:46 PM

taylorg123 says:
yummy!!!!
11/30/2014 6:05:10 PM

Hailie02 says:
Best one I have tried yet!!!!
11/28/2014 2:23:29 PM

bingus says:
sooooooooooooo good!!!
1/1/2014 9:19:53 AM

deeman says:
SOOOOOO PERFECT!!!!!!!!!!!! yummmmm.........
12/24/2013 7:14:58 AM

kellyea04 says:
SO AMAZING NOTHING COMPARES
12/22/2013 11:01:22 AM

monicahowlett says:
yum yum this was undoubtedly splendid and perfectly adequate!
12/9/2013 1:21:31 AM

sarareiff18 says:
Yum!! :) ;)
12/7/2013 10:31:10 PM

loveyoubby says:
i dont really like cream chese and so i just put alot of whip cream and it taste better
11/27/2013 7:37:42 AM

djsharpe says:
love this recipe
11/19/2013 3:19:05 PM

graciemohmoh says:
This was positively amazing! Now that I have braces though, I'm not sure if I can have it.....Hope I can, I"ll miss it so much if I can't!
11/10/2013 8:12:32 AM

Princess1774 says:
delicious
10/26/2013 6:05:53 PM

Louise99 says:
Delicious!
10/11/2013 11:58:33 PM

hellokittyz1819 says:
yummmy in my tummy
10/9/2013 2:29:05 PM

BethandMissy says:
yummy
12/20/2012 5:05:56 AM

SantaYshi says:
it's AWSOME!
12/11/2012 11:51:11 PM

Buddy26480 says:
great!
12/3/2012 4:57:39 PM

Shorty says:
This was awesome some people should get a life and make this!!!!! :P yummy
12/3/2012 11:24:36 AM

mzcarter78 says:
i love this dish but have you ever tasted oreo cream pie with icecream and some cinnimon its the best i make it all the time
12/2/2012 1:12:55 PM

saffron says:
yummy
12/1/2012 11:09:13 PM

vanessaxhere says:
So good! Love this dessert dish!!!
12/1/2012 12:14:34 PM

Braspe says:
Delicious YES Suggestion Add Peppermint Oreos it IS AMAZING
11/26/2012 7:11:59 PM

hailey16 says:
this is delicious!!! I love oreo and my brother always wants me to make it
11/22/2012 3:23:06 PM

christmasgirl123 says:
i made it last week to see if it tastes good or not and it was sooooo delicious!! i may have to make a few for christas day...
11/18/2012 4:08:33 AM

chandlarxx1d says:
It is delicious! I have found so many Oreo desserts to make and this has been the best one yet! :) Yummy!
11/12/2012 6:53:21 PM

sassy says:
i made this once it is delicious!!!!!!!!!!!!
11/11/2012 4:25:35 PM

alyssa2002 says:
it is so good it is gone in a day
11/7/2012 3:30:59 PM

lovelychristmas says:
Haven't tried it yet, going too soon though! Looks really delicious, my kids might love it! :) Thanks & have a good christmas.
11/6/2012 9:29:00 AM

Mary says:
Yummy! It's pretty easy to make, although I prefer it not frozen. Next time I make it, I'll probably use chocolate pudding and more oreos for a thicker crust. :)
11/5/2012 7:37:14 AM
Other Tasty Treats You Might Enjoy
Other Desserts
American Other Desserts
Frozen Desserts