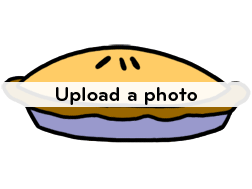 From the kitchen of Jocelyn Elliott Denton
This recipe has been on northpole.com from the beginning… since 1996! We hope you enjoy this classic North Pole recipe. Let us know your opinion by submitting a review!
Recipe Details
Ingredients
1 package (8 ounce) cream cheese, softened
1 tub (8 ounce) Cool Whip, thawed
1 tablespoon vanilla extract
1 cup sugar
2/3 cup peanut butter (any type)
1 graham cracker pie shell (already made)

Directions
Mix sugar, cream cheese, and vanilla extract together until smooth and creamy.

Add in 2/3 cup of your favorite peanut butter. Mix until creamy and smooth.

Fold in Cool Whip cream a little at a time until all mixture is completely smooth and blended together. Mixture should be smooth and creamy.

Then pour batter into your already made graham cracker crust and smooth over until mixture is even in the pie shell.

You can also sprinkle mini chocolate chips on top for decorations, or any other of your favorite candy treats. Chill in freezer for one hour or until ready to serve.

Pie needs to be thawed for a half hour before serving.
ENJOY!!
Reviews
Log in now to rate this recipe.

mscanracer says:
This was delicious and very easy. HOWEVER...I took a jar of sundae fudge and put a decent amount in the bottom and froze that for about 20 minutes. Then put the peanut butter filling in. It was awesome and needed the chocolate "touch". Easiest peanut butter recipe I've ever tried!
12/2/2013 1:43:57 PM

Succubus81Sally says:
This pie was delicious and was a HUGE hit at my company Christmas party! Recommend!! It was also easy to make, my daughter and her friend had a blast making this recipe!
12/22/2012 10:51:34 PM
Other Tasty Treats You Might Enjoy
Pies
American Pies
Cream Pies