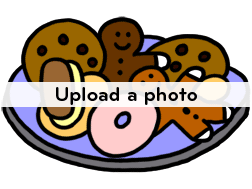 From the kitchen of jfnaki
This recipe has been on northpole.com from the beginning… since 1996! We hope you enjoy this classic North Pole recipe. Let us know your opinion by submitting a review!
Recipe Details
Ingredients
1 1/2 cups (3 sticks) softened butter or margarine
1 cup packed light brown sugar
1/2 cup sugar
1 1/2 teaspoons vanilla extract
2 large eggs
2 cups all-purpose flour
4 1/2 cups rolled oats
1/2 teaspoon salt
1 teaspoon baking soda
1/2 teaspoon cinnamon
2 cups semi-sweet chocolate chips (we also use peanut butter/white chocolate chips
1/2 teaspoon nutmeg

Directions
Place the butter or margarine in a large mixing bowl, to soften.

When ready to bake, preheat oven to 375 degrees.

Beat the butter with an electric mixer until fluffy (about 1 minute). Then add the sugars and beat for another minute. Add the eggs and beat for 2 more minutes.

Add the vanilla and stir with a spoon. Mix in flour, baking soda, and salt until you can no longer see white.

Stir in rolled oats until well combined.

Add in cinnamon, nutmeg, and chocolate chips. Stir as well as possible.

Drop by rounded teaspoonfuls onto an ungreased cookie sheet.

Bake for 10-12 minutes or until cookies are browned on the bottom.

Cool cookies on a wire rack or on a plate for at least 10 minutes before eating.
Note: If you want to get creative, add in with the oats 1/2 cup raisins or 1/3 cup dried cranberries, dried apricots, or finely chopped walnuts.
Reviews
Log in now to rate this recipe.

pinkrobin says:
delisous
12/12/2012 9:43:15 PM
Other Tasty Treats You Might Enjoy
Cookies
American Cookies
Drop Cookies