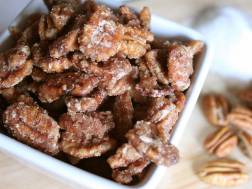 Sugared Nuts

From the kitchen of Dora Grimm
This recipe has been on northpole.com from the beginning… since 1996! We hope you enjoy this classic North Pole recipe. Let us know your opinion by submitting a review!
Recipe Details
Ingredients
3 cups walnut halves
1 1/2 cups pecan halves
2 cups sugar
1 cup water
1/4 teaspoon cinnamon

Directions
Mix ingredients in heavy skillet.

Cook until water disappears and nuts have a sugary appearance.

Remove from heat and pour nuts onto a baking sheet. Separate quickly with 2 forks.
Reviews
Log in now to rate this recipe.

lowmankrn says:
I make these every year. They're a big hit at our annual Christmas Eve Party and at work's cookie/candy exchange!! I use the mixed nuts from Sam's Club and a bit extra cinnamon.
12/11/2017 8:08:20 PM

Randi1971 says:
Easy to make.. tastes great and perfect to add to a candy plate.
12/20/2014 8:26:50 PM

aj0515 says:
deliciouse!
11/28/2012 8:46:38 PM

katevadenais says:
you can also make these in the oven verse the skillet and x the water and use 1 egg white, Just as yummy
11/18/2012 12:23:18 PM

Mary says:
I used all pecans since walnuts are not my favorite nut. (I don't particularly care for the slightly bitter aftertaste that walnuts have.) I added a smidge more cinnamon than the recipe calls for since cinnamon is so good! These taste great and look pretty in a jar!
11/5/2012 7:30:36 AM
Other Tasty Treats You Might Enjoy
Fudge and Confections
American Fudge and Confections
Candied Nuts