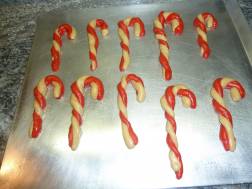 Candy Cane Cookies

From the kitchen of Makayla
This recipe has been on northpole.com from the beginning… since 1996! We hope you enjoy this classic North Pole recipe. Let us know your opinion by submitting a review!
Recipe Details
Ingredients
1 cup sugar
1 cup margarine or butter, softened
1/2 cup milk
1 teaspoon vanilla
1 teaspoon almond extract
1 egg
3 1/2 cups all-purpose flour
1 teaspoon baking powder
2 tablespoons peppermint candies, finely crushed
2 tablespoons sugar

Directions
Heat oven to 375 degrees.

Mix together 1 cup sugar, margarine, add milk, vanilla, almond and egg.

Stir in flour and baking powder.

Divide dough in half; add 1/2 teaspoon red food coloring to one half of the dough.

For each candy cane, shape one teaspoon of dough from each half (colored and not colored), into four inch ropes by rolling the dough back and forth on a floured surface. Place one red and one white rope side by side: press together lightly and twist.

Place on an ungreased cookie sheet.

Curve the top of the cookie down to form the handle of the cane.

Bake until set and very light brown, 9-12 minutes.

Mix: 2 tablespoons finely crushed peppermint candies, 2 tablespoons sugar. Mix this together and sprinkle immediately over hot, baked cookies.
Reviews
Log in now to rate this recipe.

christmascookies1234 says:
awesome, i tried it and i would think that santa would approve;)
12/24/2014 11:43:07 AM

43916 says:
GREAT
12/12/2014 2:01:05 PM

winterfun22 says:
awsomeest cookie ever
12/7/2013 11:05:13 AM

bebe2010 says:
looks sounds and tastes very good I love the cookie its my nephews favorite to leave out for santa on Christmas eve!!
11/23/2013 7:06:36 PM

Suntanny says:
Delicous
5/1/2013 10:06:21 AM

nanto101 says:
i luv this cookie and everyone should try it
12/24/2012 9:32:14 PM
Other Tasty Treats You Might Enjoy
Cookies
Southern Cookies
Molded Cookies