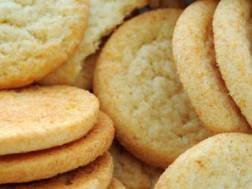 Best Ever Sugar Cookies

From the kitchen of Samantha Richards
This recipe has been on northpole.com from the beginning… since 1996! We hope you enjoy this classic North Pole recipe. Let us know your opinion by submitting a review!
Recipe Details
Ingredients
1 cup powdered sugar
1 cup granulated sugar
1 cup oleo (butter or margarine may be used)
1 cup vegetable oil
1 teaspoon vanilla
2 eggs
4 1/2 cups flour
1 teaspoon salt
1 teaspoon baking soda
1 teaspoon cream of tartar

Directions
Preheat oven to 375 degrees F.

Cream sugars, oleo and oil; add eggs and vanilla.

Sift flour together with salt and cream of tartar and soda.

Mix with first mixture.

Chill dough.

Roll in small balls and place on an ungreased sheet and press down with a glass with a pretty etched design. Bake for 12 minutes or until very lightly brown.
Reviews
Log in now to rate this recipe.

WalrusGumbo says:
Soft and yummy, truly good!
12/13/2018 12:46:42 AM

steelydave says:
Excellent, will certainly use next Christmas.
4/11/2016 5:37:25 PM

Marisol11 says:
These were yummy!
10/31/2015 11:36:45 AM

Slaybells says:
I agree
10/5/2015 7:22:24 PM

Queentee says:
Thanks my daughter have food allergies so now I can cook something for my whole family she can eat also .
12/3/2014 1:55:06 PM

mayae says:
delicious:)
8/27/2014 7:16:22 AM

denver says:
I think these are amazin mm mm good
6/22/2014 1:44:34 PM

Kelseyrosspet says:
Yummy
12/13/2013 5:35:32 PM

dri1d says:
i'll be baking these again for my family dinner! :)
12/1/2013 6:20:28 PM

Rebekka says:
these are very good....
12/24/2012 4:45:34 PM

ambur1022 says:
Tried this recipe for the first time and it was a huge success! Loved by all and so easy.
12/12/2012 10:39:20 AM

medickendra says:
I bake these every year and we just love them, they are delicious and easy to make. This is a family favorite!!!!!!!!!
11/29/2012 11:46:34 AM

candy1109 says:
they were delicious
11/28/2012 2:38:09 PM

xmaslover4eva says:
Very easy to make and delicious . Loved making them! will be baking them next year!
11/28/2012 11:26:15 AM

711606 says:
Very good, Daughter and Son love them! :)
11/25/2012 1:14:57 PM

all41mom2 says:
these are the best. I love them.
11/13/2012 10:46:12 AM
Other Tasty Treats You Might Enjoy
Cookies
American Cookies
Molded Cookies