Skill Level:
Crafting Time:
Technique(s):
Material(s):
Category:
Tag(s):
Share This Craft
Search Crafts
Wintery Paper Trees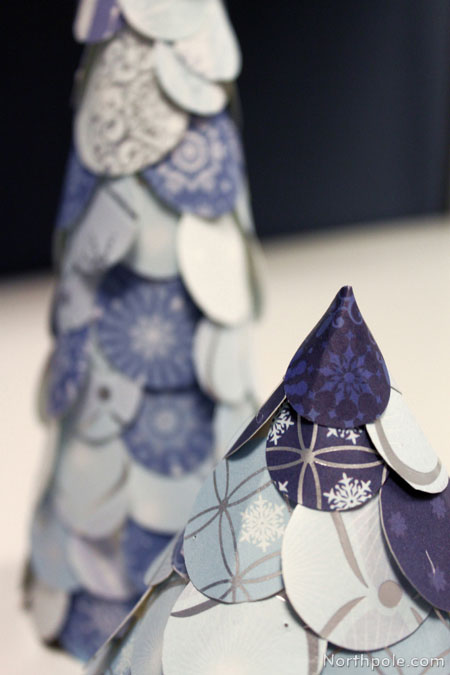 Transform simple foam cones and scrapbook paper into a fun table centerpiece! We used a wintery color scheme, but you can use different colors to match your decor.
Supplies & Tools: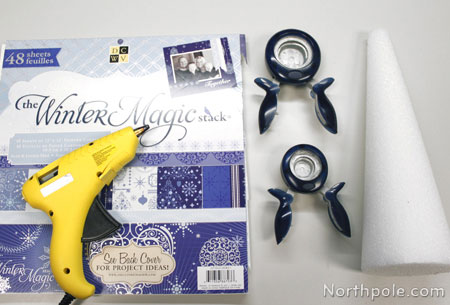 Foam cones, assorted sizes
Assorted scrapbook paper
Medium circle punch (1" diameter)
Large circle punch (1.5" diameter)
Hot glue gun & glue sticks
Directions:
Cut out circles using medium and large punch.
Start gluing circles at the base of the cone.
Continue adding circles, alternating colors and sizes, as you glue them to the cone.
Note: You can change adhesives depending on the paper. If your paper is thick, then hot glue is probably the best adhesive since it dries quickly. However if the paper is thin, it will cling to the cone more easily. So you can coat the cone in Mod Podge and then quickly attach the circles.
Repeat for each cone.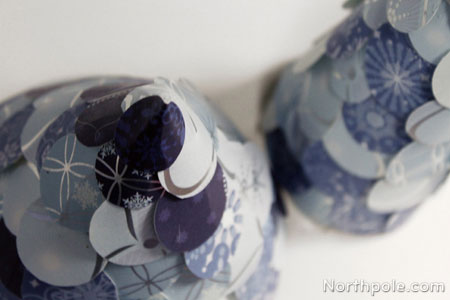 Elfy Hints:
If you want to reuse your foam cones for a different project later, use straight pins instead of hot glue to add circles.
If you don't have foam cones, you can make your own cones from cardstock or poster board. Take a large piece of cardstock (11" x 17") or a sheet of poster board and draw a large circle. Draw a straight line through the center of the circle. Cut out the circle, and then cut in half. Roll the semi-circle to form a cone shape. Use hot glue to seal. Stand cone on a flat surface. If cone is a little wonky, you can make it level by trimming the base. Now begin adding circles!
Some craft stores are beginning to carry papier-mâché cones for crafting. These may be more suitable for decoupage projects than foam cones.