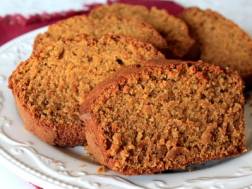 The Best Pumpkin Bread

From the kitchen of KLESNIAK
Enjoy plain, buttered, or with cream cheese.
Recipe Details
Ingredients
2 cups of canned pumpkin
3 cups of sugar
1 cup water
1 cup vegetable oil
4 eggs
3 1/3 cups of all-purpose flour
2 teaspoons of baking soda
2 teaspoons of cinnamon
1 teaspoon salt
1 teaspoon baking powder
1/2 teaspoon of nutmeg
3/4 teaspoon of ground cloves

Directions
Heat oven to 350 degrees.

Grease 2 9x5 inch loaf pans and dust with flour.

In a large mixing bowl, combine the pumpkin, sugar, water, vegetable oil, and eggs. Beat until well mixed.

Mix the rest of the ingredients into a separate bowl. Stir until combined.

Slowly add the dry ingredients into pumpkin mixture, beat until smooth.

Evenly divide the batter between the two pans.

Bake for 60-70 minutes or until a toothpick inserted into the center comes out clean.

Cool for 10-15 minutes.

Remove bread from pans by inverting them onto a rack and tapping the bottoms.
Reviews
Log in now to rate this recipe.

cathann62 says:
I have this very same recipe, but I only use 2 cups of sugar and it is plenty sweet. My girlfriend gave me this recipe, she has won blue ribbons at the state fair with it. Delicious
11/17/2014 12:45:36 PM

777777 says:
Very good plus going to add to recipe box! MMMMM
1/25/2013 6:46:14 AM

my4angels says:
The best pumpkin bread recipe I have found. I used 1 / 15 oz. can of pumpkin and I added nuts. The flavor was just right and very moist, froze well, sliced well! love it! Thanks for sharing this!
12/14/2012 6:34:59 AM

Mary says:
This bread is simply delicious! My family loves it!
11/23/2012 12:05:35 PM

lynk19 says:
One of the best recipes I have ever found. I make lots of these in the fall and give to other people or serve with meals. I always get lots of compliments.
11/15/2012 6:02:56 PM
Other Tasty Treats You Might Enjoy
Breads
American Breads
Quick Breads