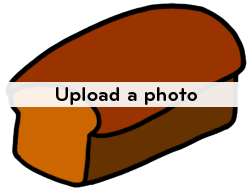 From the kitchen of VanderMayGreen
A sweet treat.
Recipe Details
Prep Time:
Cook Time:
Total Time:

15 minutes
60 minutes
75 minutes

Tags:
Gluten‑free
Ingredients
2-3/4 cup Gluten-free flour (mix listed below)
1 tsp. xanthan gum
2 tsp. baking powder
1/4 tsp. salt
2 T. poppy seeds
2 T. grated fresh lemon rind
Blend above together
1 cup oil
2 cups sugar
3/4 cup milk
1 tsp. vanilla
1/2 tsp. almond extract
3 drops lemon oil (optional)
4 eggs
Gluten-Free flour mix, sift together: 3 cups rice flour, 1 cup potato starch flour and 1.2 cup tapioca flour.

Glaze
2 cups powdered sugar
2 tsp. grated lemon rind
1/4 cup fresh lemon juice
2 drops lemon oil (optional)

Directions
Place liquid ingredients in large mixing bowl then add in dry ingredients a little at a time mixing with electric mixer.

Line the bottom of two 9"x5" pans with cut waxed paper that is sprayed lightly with oil. Pour batter into pans.

Bake in a preheated 350 degree oven for about an hour, until a toothpick comes out clean. Remove from oven and turn out from pans onto dish and then glaze immediately. Let cool completely.
Glaze
Mix glaze ingredients together until smooth.
Reviews
Log in now to rate this recipe.

Virgie1958 says:
You don't have to be eating gluten-free to just love this.
11/19/2017 6:16:08 AM
Other Tasty Treats You Might Enjoy
Breads
American Breads
Quick Breads