Skill Level:
Crafting Time:
Material(s):
Category:
Tag(s):
Share This Craft
Search Crafts
Paper Teardrop Ornaments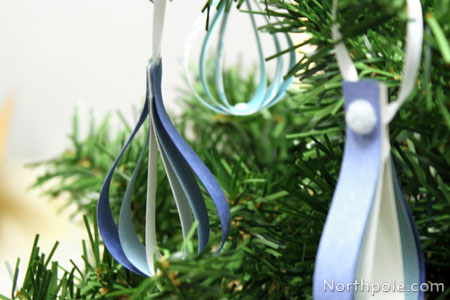 These simple ornaments are a variation of these paper ornaments. We made our teardrop ornaments with shades of blues for an icy feeling, but feel free to mix and match colors as desired. Try cutting larger or smaller strips of paper to create different ornaments.
Supplies & Tools: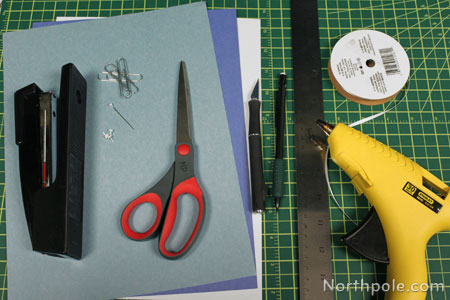 3 sheets of paper, different colors or prints
X-Acto
Cutting mat
Scissors
Metal ruler
Pencil
Hot glue gun & glue sticks
Ribbon, 1/8" wide
Stapler
Pin
Brads
Directions:
Place cutting mat on a flat surface.
Working on the cutting mat, use the X-Acto and metal ruler to cut strips of paper with the following measurements:

1 white – 0.5" x 5.75"
1 light blue – 0.5" x 6.25"
1 blue – 0.5" x 6.75"

Draw a light line at the halfway point on each strip.
Stack strips lining them up at the halfway lines. Use paper clips to hold together.
Using a pin, pierce a hole in the middle of the halfway line.
Then push a small brad through the hole, and separate the wings on the reverse side. Remove paperclips.
Gather the inner two strips and align the top edges of the strips. Use a paper clip to hold together and staple. Remove paper clip.
Cut a piece of thin ribbon that is about 5" long.
Fold ribbon in half and glue ends on top of the staple.
Fold up the remaining paper strip, and glue in place.
Embellish the ornament however you like.
Ideas from the Elves:
Put a dot of glue on ornament and immediately sprinkle with fine glitter.
Cut out a small piece of decorative paper and glue in place.
Use double-sided scrapbook paper.