Skill Level:
Crafting Time:
Technique(s):
Material(s):
Category:
Tag(s):
Share This Craft
Search Crafts
Easy DIY Earrings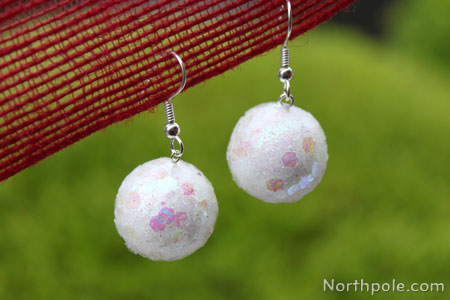 Does making earrings sound difficult and complicated? It doesn't have to be! You can make some super easy earrings from little glittered foam balls. These small sparkly spheres came from a bag of vase filler, which you can find in the decorating aisle at the craft store. Don't fret if you don't have these exact "beads" because you can use any type of large bead instead.
Supplies & Tools: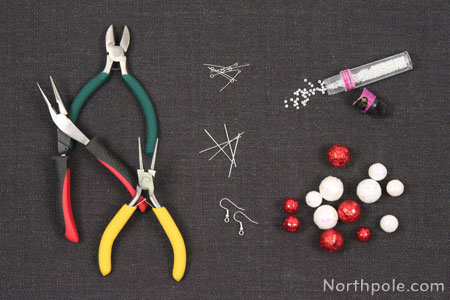 Wire cutters
Round nose pliers*
Flat nose pliers*
Seed beads (size #11)
Headpins or eyepins** (1.5" long)
Earring hooks
Small foam glitter balls
*A note about jewelry pliers: The round nose pliers are necessary for bending the headpins and wire. The flat nose pliers are for holding, bending, and cinching. You could use regular needle nose pliers with teeth, but just be cautious that the teeth can leave marks and indentations on your jewelry. Yuck.

**When it comes to selecting the size/length of jewelry findings, there is a smorgasbord of options. You can choose whatever like depending on the style and type of earring you wish to make. We used 1.5" long headpins that are 0.021" thick.
Directions:
Put one seed bead on the headpin.
Note: Use seed beads to make sure that the larger bead doesn't slide off the head pin. In this case, we are using the seed bead to make sure that the headpin doesn't bore a hole in the foam ball.
Carefully push the headpin through the foam ball. It can be a little tricky to get it straight through the center, so just try to get it as close as you can.
Trim the headpin so that there is 0.25" sticking out of the foam.
Use round nose pliers to curve the end of the headpin.
Leave a small opening to attach the earring hook.
Add the earring hook and use pliers to close the loop.
Repeat steps for other earring, and then you'll have a new pair of earrings!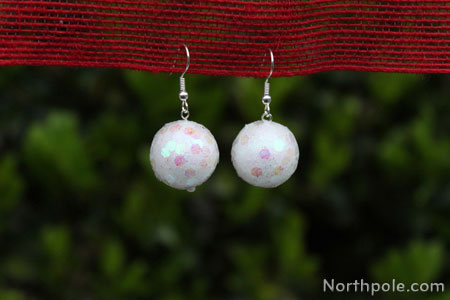 Ideas from the Elves:
Use all different types of beads and jewelry findings to suit your taste!
Stack multiple beads and group three headpins together.
Mix and match with your favorite color!