Skill Level:
Crafting Time:
Material(s):
Category:
Tag(s):
Share This Craft
Search Crafts
Cheery Palm Trees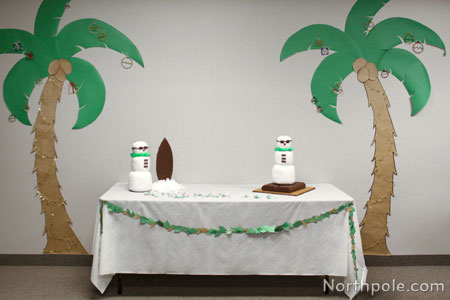 When coming up with decoration ideas for your Christmas in July party, think of it as a summer-meets-Christmas mash-up. It's hard not to associate summer with the beach, so palm trees make an excellent wall decoration. We found the paper at a school supply store and used tape to stick it onto the wall, but if you had a large corkboard (in a classroom, for example), you could use a stapler instead.
Supplies & Tools: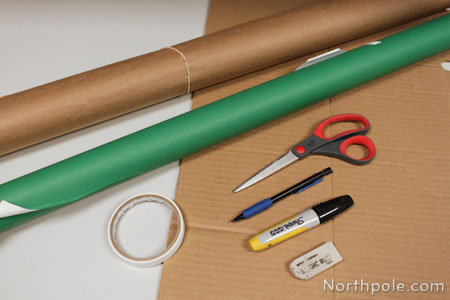 Kraft paper (48" wide roll)
Green paper (48" wide roll)
Pencil
Eraser
Scissors
Black marker
Artist tape
Newspaper or cardboard
Directions:
Trunk:
Unroll kraft paper onto a flat surface. Cut paper to desired length, and set the roll aside.
Note: If your table isn't big enough, tape your sheet of paper on the wall so that you can draw more easily.
Use pencil to draw the outline of the tree trunk. It may take a few tries to get the outline you are happy with. We recommend using a Magic Rub Eraser since it erases nicely and doesn't tear up the paper.
If you taped your paper to the wall, transfer it to a table (or a carpet-free floor).
Place newspaper under the kraft paper so that the marker doesn't bleed onto your work surface. Trace over the pencil with the black marker (such as a chisel tip Sharpie). If you don't have newspaper, you can use cardboard or any other flat scrap material to lie between the kraft paper and your work surface.
Erase stray pencil marks if needed.
Cut out.
Palm Fronds:
Unroll a piece of kraft paper and cut.
Draw frond shapes onto kraft paper. It took us a couple of tries to get a shape that we liked, so we recommend experimenting with scrap (or inexpensive) material like the kraft paper before you cut up the green paper.
Unroll green paper onto a flat surface.
Place kraft paper fronds onto green paper and trace.
Cut out.
Coconuts:
Draw coconut shapes onto scrap pieces of kraft paper.
Trace with black marker.
Cut out.
Assembly:
Tape trunk to wall. (Or staple, if you have a corkboard.)
Add palm fronds and coconuts.
Add ornaments (click here to make these cute, sparkly ornaments) and garland, if desired.