Skill Level:
Crafting Time:
Material(s):
Category:
Tag(s):
Share This Craft
Search Crafts
Balloon Shaped Paper Ornament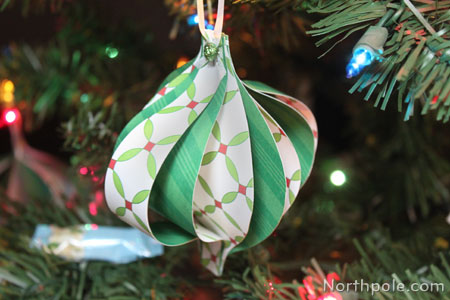 Reminiscent of a miniature hot air balloon, this ornament is a cheery addition to your Christmas tree. You can switch up the paper to create a "balloon" with different colors or patterns; try it with construction paper or double-sided scrapbook paper.
Supplies & Tools: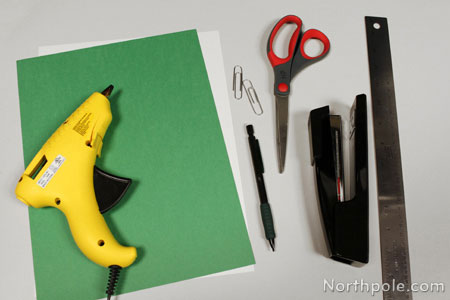 1 sheet green construction paper
1 sheet white construction paper
Scissors
Ruler
Pencil
Stapler
2 paperclips
Hot glue gun & glue sticks
Directions:
Print template and cut out pieces.
Trace pieces A and C onto white paper, and pieces B and D onto green paper.  (If using double-sided paper, see instructions below.)
Cut out pieces.
Stack the pieces in this order: D-C-B-A-B-C-D.
Stack pieces so that they are lined up along the bottom edge. Use a paperclip to hold the pieces together.
Staple pieces C-B-A-B-C together. Then glue D pieces d in place. Remove paperclips and set aside.
Line up pieces along top edge, and staple together pieces C-B-A-B-C. Then glue D pieces in place.
Cut a piece of ribbon that is about 7" long. (Cut a longer piece if you'd like a longer loop to hang the ornament.)
Use hot glue to secure the ribbon in place.
Tie a small bow from ribbon and glue to ornament.
Ideas from the Elves:
Instead lieu of a bow, cut out a small image from a piece of scrapbook paper and glue in place.
Try adding a dot of glue and sprinkle with a fine glitter. We used hot glue so that it kept its round shape, but tacky glue will work, too.