Skill Level:
Crafting Time:
Category:
Tag(s):
Share This Craft
Search Crafts
DIY Christmas Party Photo Booth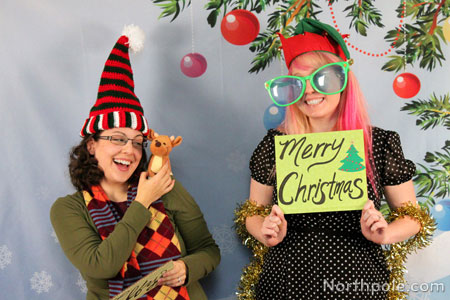 Who doesn't love capturing silly moments in a photo booth? If you have ever wanted to make a DIY photo booth for a party, but weren't sure where to start, the Northpole.com elves are here to help! Keep reading for prop ideas, festive sign ideas, and a few camera tips.

If you need to buy some props, Party City and Dollar Tree are good places to purchase Santa hats, reindeer antlers, and other goodies for your photo booth without breaking the bank. If you're a DIYer, get crafty making some signs, mustaches, or whatever else your heart desires.
Backdrop Ideas:
A wall
In front of your Christmas Tree
Hang a sheet on the wall
Paper streamers
Strips of fabric (different patterns)
Christmas lights
Rent a backdrop
Check out this blog for more backdrop ideas!
Prop Ideas:
Santa hat
Winter hats & scarves
Wrapped presents
Oversized ornaments
Giant candy canes (lawn decorations)
Mistletoe (from the craft store)
Garland or boas in festive colors
Cardboard signs
Oversized glasses
Empty picture frames
Small chalkboard & chalk for folks to write their own festive or funny messages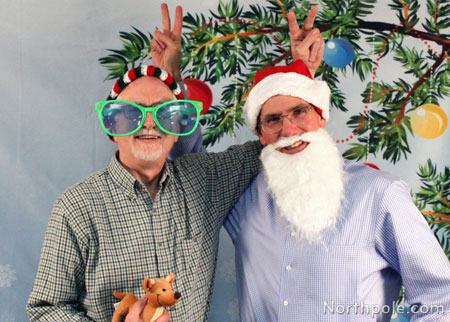 Sign Text Ideas:
Where are the cookies?
I saw Mommy kissing Santa Claus
Ho! Ho! Ho!
Bah Humbug!
Naughty or nice?
Bring me the figgy pudding!
Feliz Navidad
Merry Christmas
Joyeux Noël
Baby, it's cold outside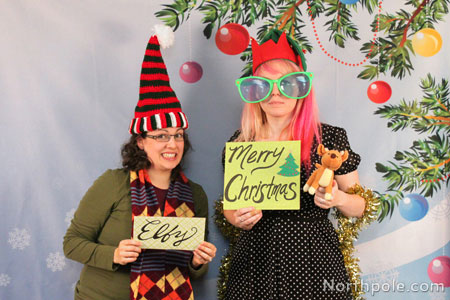 Setting up the Camera:
All your props are in order, but what about the setup? Who will take the pictures? Maybe one of your friends wants to volunteer to be the photographer for the night… That's all fine and dandy, but what about group pictures? Here's a simple setup to make your photo booth (almost) hands-free.
You'll need:
DSLR camera
Tripod
Wireless shutter release
Flash or adequate light source
Camera/Tripod – After the photo booth area is decorated and props are ready, set up the tripod and camera. Take a couple test shots to make sure everything looks good.

Shutter Release (aka Remote Release) – This handy gadget allows you to take photos without actually touching the camera. Just like a remote for the TV, you can take a picture while in front of the camera. If you don't have one already, make sure you get the wireless kind! These run about $10 at an electronics store or on Amazon, but just be sure you get one that is compatible with your camera!

Flash – Adequate lighting is very important when snapping photos. Use your camera's flash or add lights to the photo area to keep pictures from being blurry. Keeping the camera on the tripod will also help.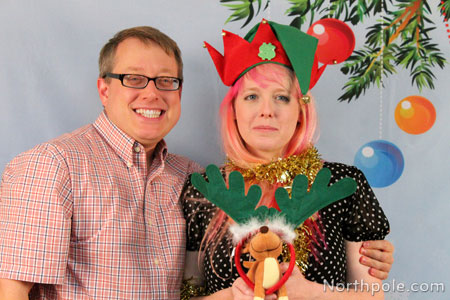 Have fun creating memories in your own holiday photo booth!