Gift Ideas for the Green Friend
You've heard the old adage Reduce, Reuse, and Recycle. Someone you know is probably an advocate of preserving the planet's natural resources. To appeal to their propensity for sustainable living, many of the gifts below have been repurposed, upcycled, or handmade by artisans in small communities. For your earth-loving, tree-hugging, and crunchy friends, check out these gift ideas.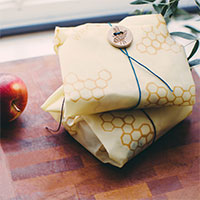 Reusable
Bee's Wrap
is a natural alternative to disposable plastic wrap. Made from beeswax-infused organic cotton muslin, Bees Wrap can be used to wrap up bread, veggies, bowls, and dishes. Beeswax is naturally antibacterial, so it helps keep food fresh and allows the wrap to be used time and time again.
Washing laundry with a non-toxic detergent doesn't get any easier than using
Eco Nuts.
These soap nuts are actually berries that contain saponin (naturally occurring soap) and are organically grown in the Himalayas.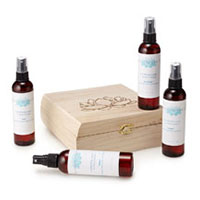 The
Aromatherapy Deluxe Gift Set
contains 4 blends of therapeutic- grade essential oils that can be used for mood support or as an air freshener. The Sleep blend will help the recipient feel calm and relaxed, while the Revive blend will uplift their spirits and increase focus. The set arrives in a wooden box that has a hand-burnished flower on top.
A facial mask like this
organic mineral mask
will make your loved ones feel like they are getting a spa treatment. Made from Dead Sea mud, kelp, and green tea, this mask deep cleans pores, exfoliates, and moisturizes skin leaving it feeling vibrant and refreshed.
Your eco-minded friends will think you're so clever when they realize you wrapped their gifts in this
plantable wrapping paper.
Flower seeds are embedded in the paper, so when spring rolls around, the recipient can simply plant the paper and wait for flowers to appear!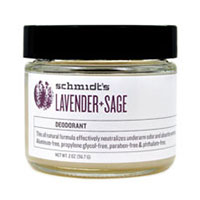 Know someone who wants to make the switch from traditional deodorant to a safer, non-toxic one?
Schmidt's Natural Deodorant
is a brand that actually works! Plus, it's vegan and has 5 great-smelling flavors to choose from. A perfect stocking stuffer!
Ditch disposable straws and use these
organic, reusable bamboo straws
instead. They are dye-free, dishwasher safe, and—at the end of their long life—biodegradable. These are a unique stocking stuffer!
Reduce waste and save trees by using
Squeeze Cellulose Cloths
as an alternative to paper towels. These cloths are made from biodegradable cellulose and can be used for months. Dishwasher safe.
Sustainably upcycled from cloth remnants, these gorgeous
sari wraps
can be used in a number of ways, such as wrapping special gifts or wearing as a fashion accessory.
This beautiful
vintage silk sari wrap
is handmade from upcycled, vintage, silk saris. Be sure to check out the video to see how the saris are made.
Replace plastic baggies with
BlueAvocado Reusable Snack Bags,
which are great for packing up everyday snacks and lunches. What's more, these snack bags are freezer safe and have a double-lock system that locks liquids inside.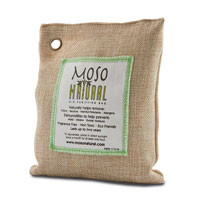 Bye-bye, chemical air fresheners! And hello,
Moso Natural Air Purifying Bag!
This handy charcoal filled bag will eliminate odors in the home, apartment, or car. Set it out in the sun for an hour each month, and it will last 2 years.
This page contains affiliate links. Please see our full disclosure here.