Skill Level:
Crafting Time:
Material(s):
Category:
Tag(s):
Share This Craft
Search Crafts
Glittery Buffet Centerpiece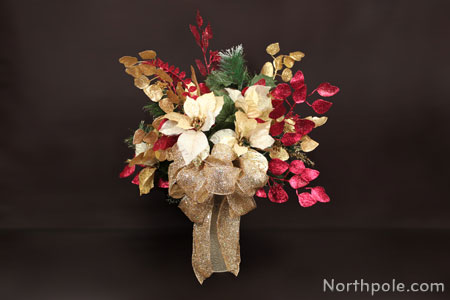 This tall, full arrangement is great for a table, in a foyer, or as a buffet centerpiece during your Christmas party. When making your arrangement, first decide where the arrangement will be placed, as this will determine the container and the flowers that you choose. Then select your color palette and the types of flowers for your holiday centerpiece.
Getting Started
When shopping at the crafts store, artificial flowers are sold either in bushes or by the stem. There's no right or wrong when it comes to choosing stems or bushes—it's your preference. Before you dive in, here are some other terms you'll need to know:

Bushes v. stems: A bush has several blooms sold as a unit, whereas a stem usually a single boom sold individually.

Face flowers: Flowers with large blooms, such as poinsettias, lilies, large roses, sunflowers, hydrangeas, etc. Face flowers should be the focal point of the arrangement.

Linear flowers: Flowers that are long and skinny, such as snapdragons or gladiolus. Branches and greenery are commonly used add length or height to an arrangement.

Filler flowers: Smaller flowers used to fill in the arrangement, such as daisies, berries, asters, or baby's breath. You can also use different types of greenery or pinecones as filler.
Supplies & Tools: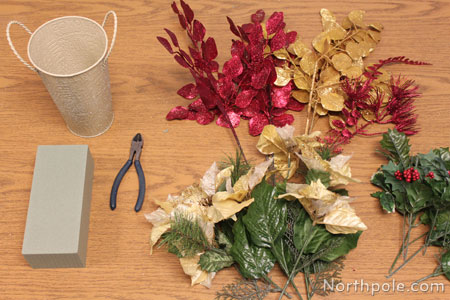 1–2 bushes face flowers
3–4 stems linear flowers
Greenery
Filler flowers
Spanish moss
Container
Dry floral foam
Knife
Wire cutters
Hot glue gun & glue sticks
Directions:
Select a container for floral arrangement.
Select flowers and greens for arrangement.

Choose a style of arrangement. This will alter the types of flowers used.

Choose flowers. Be sure to include some linear, face, and filler flowers and greenery.  We really like eucalyptus, so we chose several stems of red and gold seeded eucalyptus and gold poinsettias. Eucalyptus acts as both linear (giving height) and filler flowers.

Place a piece of floral foam into container. Foam should be at least 1" above the container. Cut foam as needed.
Note: Add some rocks/pebbles in the bottom of the container. This will prevent the arrangement from being top-heavy and tipping over. Add floral foam as usual.
Secure foam in place. There are a variety of ways to secure foam in the container:

Cut wedges from foam and push pack into container on either side of the foam.

Crumple up newspaper and pack around the foam until it holds the foam firmly in place.

Lightly cover the foam with Spanish moss.  Only a little bit of moss is needed since the majority of the foam will be hidden by the flowers. No need to glue the moss, once flowers are stuck into the foam, they will hold the moss in place.
Begin arrangement by placing the tall/linear flowers in first. Stick the first linear flower in the center, standing straight up. Then stick the other linear flowers near the center, but slightly facing outward. Use wire cutters to cut the stems as needed.
Note:  Oftentimes it is good to work with color groups. Put all the red flowers in first, followed by all the gold flowers, and so on. This helps you to see if the colors are traveling nicely throughout the arrangement (evenly distributed).
Here we added all the red flowers/greenery first, followed by the gold.
Next, add in the face flowers. (Cut stems as needed with wire cutters.)
Note: Add flowers to arrangement in a zigzag pattern (or a triangle pattern)
Fill in with greenery/flowers as desired.
Tie a bow (click here for instructions).
Wrap the wire of the ribbon around a stick and add to arrangement.