Glitter Poinsettias Made from Paper Rolls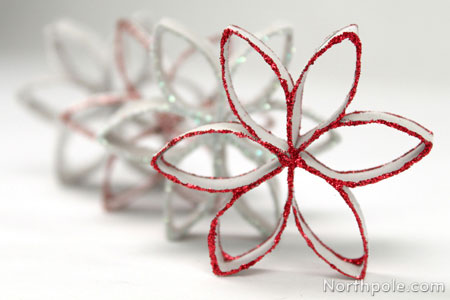 These little flowers are cute and inexpensive embellishments that you can attach to gifts or hang on your Christmas tree. You could get your kids involved, too—they'll enjoy decorating the flowers with glitter or even paint. Mix and match colors: use white rolls with pastel glitter for whimsical poinsettias or red and brown glitter on brown rolls for an earthy color palette.
Supplies & Tools: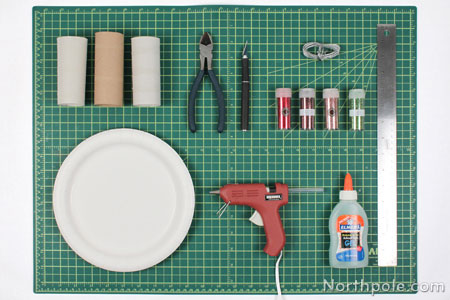 Cardboard rolls
X-Acto
Cutting mat
Metal ruler
2 foam plates
Hot glue gun & glue sticks
Craft glue
Glitter
Floral wire
Wire cutters
Directions:
Press the cardboard roll flat.
Working over the cutting mat, use the X-Acto and ruler to cut the roll into rings that are 0.5" wide.
Stack 3 rings together and wrap a piece of wire around the center 2 or 3 times. Twist the ends of the wire together and fold towards the center. Trim excess wire. Make sure that the sharp ends of the wire are not near the edge.
In between each petal, put a small dot of hot glue and immediately pinch the petals together.
Apply craft glue to the thin edges of the flower and sprinkle with glitter. The easiest way to apply the glue is to spread some glue evenly on a foam plate, then dab the poinsettia in the glue. Once the surface is evenly coated with glue, add the glitter.
Allow to dry, then repeat on the other side.
Tie a piece of string through one of the petals and attach the flower to a gift or hang it on your Christmas tree.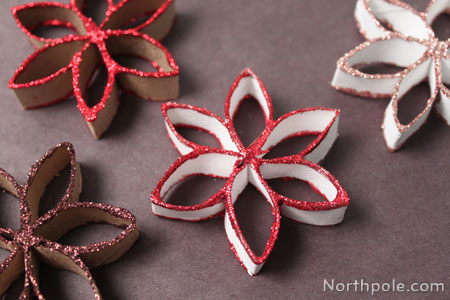 Elfy Hint:
Most paper rolls are brown, but Cottonelle bathroom tissue comes on a white roll.
Idea from the Elves:
Use tinsel glitter for a different effect. Iridescent tinsel glitter makes the flowers look fuzzy.