Skill Level:
Crafting Time:
Material(s):
Category:
Tag(s):
Share This Craft
Search Crafts
Festive Holiday Slime: 5 Ways
Ah, slime… So squishy, so sparkly, and so therapeutic! Santa's elves have been at work mixing up some slime for the holidays. Our 5 different festive slimes are fun to make and play with, plus they are a great boredom buster during winter break. So, what'll it be: Ugly Christmas sweater slime or perhaps snowball slime? Keep reading for even more awesome slime ideas.

And, parents, as always, keep an eye on your kiddos to make sure they don't ingest the slime. The slime is so fascinating, it might be tempting for children to put it in their mouths. Should your youngster ingest it, seek medical attention.
Supplies & Tools: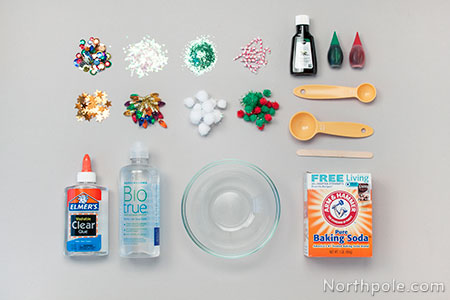 5 oz. Elmer's clear glue (1 bottle for each batch of slime)
Baking soda
Contact solution
Water
Measuring spoons
Mixing bowl
Popsicle sticks
Additives: glitter, mini pompoms, sequins, food coloring, scents, etc.
Directions:
Pour the entire bottle of glue into bowl.
Add 1/2 tablespoon of baking soda and mix into the glue using a popsicle stick.
Add 1 tablespoon of water and mix into the glue.
Mix in additives. See below for inspiration. (We're making the snowball slime here.)
Then mix in 1 tablespoon + 1/2 teaspoon of contact solution. Stir until slime forms.
When it's too difficult to stir and looks like a big clump, begin kneading the slime with your hands.
Note: If the slime is still quite sticky after kneading for a minute or so, add a little bit more contact solution. Too much contact solution will make your slime hard and rubbery, so make sure that you only add a very small amount. You can always add more contact solution, but you can't take it out once it's mixed in!
Enjoy your festive slime! And make sure to store the slime in an airtight container when you're not playing with it.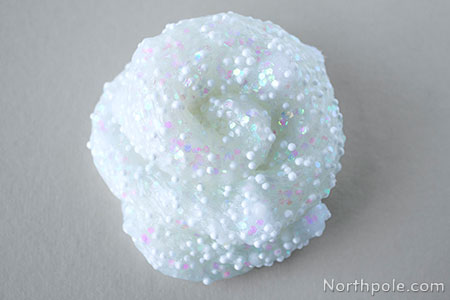 Add chunky iridescent glitter, tiny foam balls, and small white pompoms to your slime at step 4 (above) to make snowball slime. The foam balls give the slime a strangely satisfying crunchy sound—we can't stop squishing it!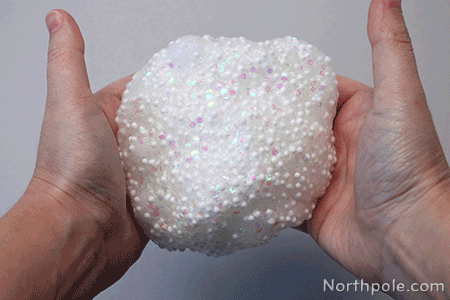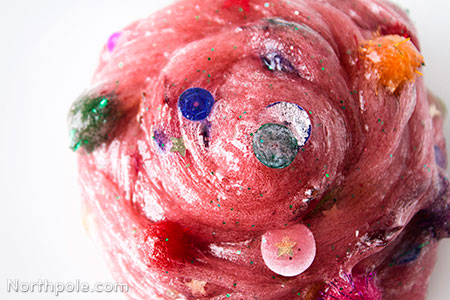 This fun slime is an ode to ugly Christmas sweaters everywhere! At step 4 (above) simply add sequins, sparkly multi-colored pompoms, glitter, miniature plastic light bulbs, a drop of red food coloring, and whatever else you like.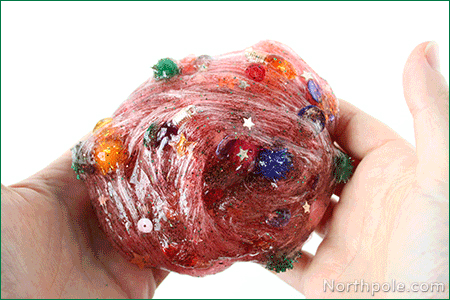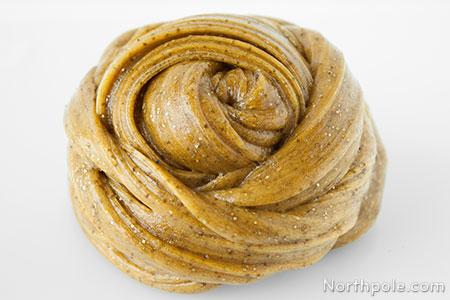 This Christmas "toffee" slime reminds us of all the wonderful sweets and baked goods from Mrs. Claus' kitchen. Scented with baking extract and loaded with gold glitter, this slime smells divine and is oh-so sparkly! To make it, omit the water in step 3 and use 1 tablespoon Vanilla Butter & Nut extract instead. Then add 2 drops red food coloring, 2 drops blue food coloring, and lots (and LOTS!) of gold glitter.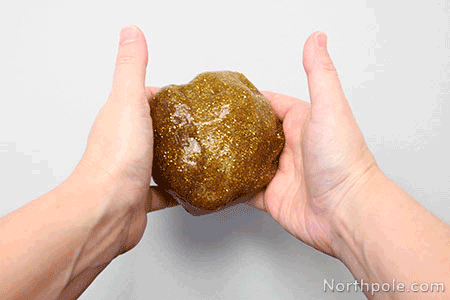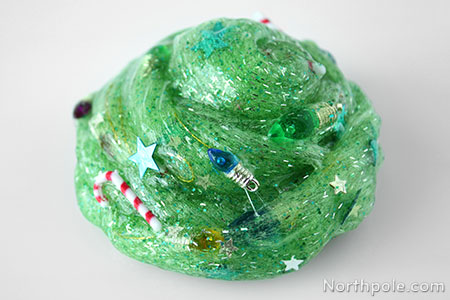 Our Christmas tree slime contains practically everything except for the tree itself! Packed with glitter, stars, lights, and candy canes, we simply love this slime. The green tinsel glitter looks like little-bitty pine needles, and the silver tinsel glitter looks like, well, tinsel! Add a drop of green food coloring and, if desired, a drop of pine essential oil or fragrance oil for that fresh Christmas tree scent. (Check first to make sure the oil is safe for skin exposure.)

Note: Are you wondering where you can find these fabulous mix-ins? At your local craft store, of course! We found the stars in the glitter section, and the little plastic light bulbs and candy canes are actually tiny Christmas ornaments that we found in the holiday section.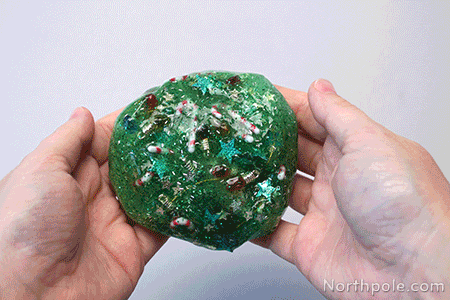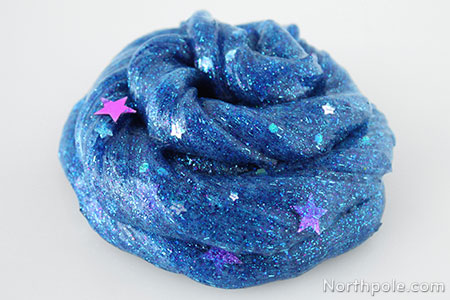 This sparkly slime brings to mind the peaceful, starlit skies on Christmas Eve. To make this slime, add chunky iridescent glitter, fine blue glitter, fine purple glitter, star glitter, and 8–10 drops of blue food coloring at step 4 (above).