Skill Level:
Crafting Time:
Technique(s):
Material(s):
Category:
Tag(s):
Share This Craft
Search Crafts
Easy Fingerprint Christmas Cards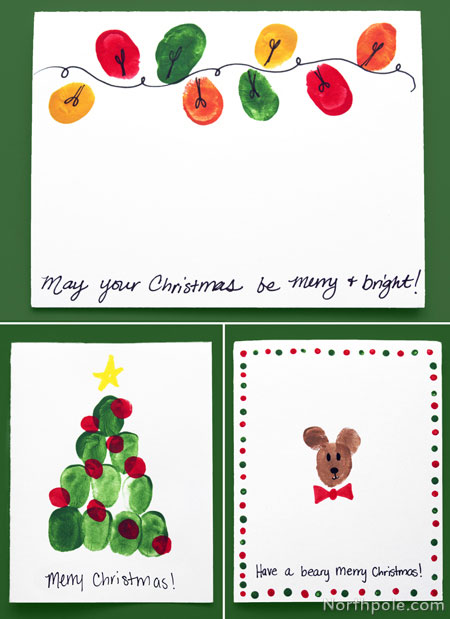 Here are some quick and easy Christmas cards your children can make. Kids will have fun making these cards to give to grandparents and other relatives. So pull out an apron, roll up those sleeves, and make these cute, finger printed cards. We especially love the card with the Christmas lights—it's sure to brighten the recipient's face when they see this delightful handmade card.
Supplies & Tools: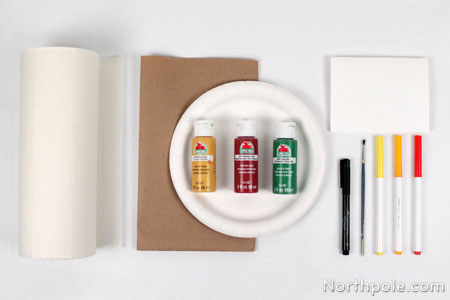 Paint, assorted colors
Blank notecards
Foam plate
Black ink pen (such as a PITT artist pen)
Markers
Newspaper or kraft paper
Baby wipes and/or paper towels
Thin paintbrush
Directions:
Protect work surface with newspaper. Place a blank notecard and foam plate on work surface.
Put a small, dime-sized amount of paint on the foam plate.
Assist child in stamping their finger on the card.

For the Christmas lights, stamp fingerprints across the top of the card.
For the tree, stamp fingerprints in the shape of a triangle. Allow to dry and then use fingertip to add red dots.
For the bear, stamp and roll thumb to make a larger imprint. Use index finger to make the ears. Use the back of a paintbrush to make the dotted border.

Allow to dry completely.
Use the black ink pen or markers to draw details:

For the Christmas lights, draw a filament inside each light and then draw a cord to connect them together.
For the tree, use a yellow marker to draw a star at the top of the tree.
For the bear, draw face and a red bow tie. How dapper!

Write a message on the inside of the card, and you're all done!