Skill Level:
Crafting Time:
Material(s):
Category:
Tag(s):
Share This Craft
Search Crafts
Angled Gift Card Holder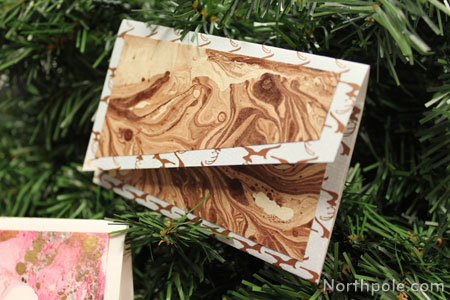 Here's a twist on a traditional gift card holder. Make your gift memorable by wrapping it up in a lovely handmade and reusable holder! Cardstock works best for making a durable holder, but you can use any type of paper to decorate it.
Supplies & Tools: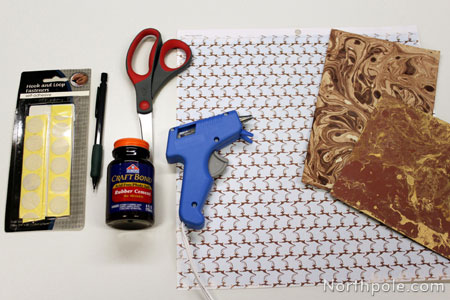 Cardstock
Decorative paper (We used handmade marbled paper.)
Bone folder
Pencil
Rubber cement
Scissors
Mini hot glue gun & glue sticks
Self-adhesive Velcro
Directions:
Print out template and cut it out.
Place cardstock (unprinted side facing up) on work surface. Trace piece #1 from the template onto cardstock.
Using a pencil, lightly mark each area of the cardstock with 1A, 1B, or 1C, using the template as your guide.
Draw small marks to indicate where the fold lines will be.
Use a metal ruler and a bone folder to make a crease on fold line 1. Repeat for fold line 2.
Note: We used the rounded tip of a large paperclip in lieu of a bone folder.
Cut out piece #1, and erase the small marks near the fold lines.
Trace pieces 2A, 2B, and 2C from the template onto the unprinted side of decorative paper and cut out. Lightly write 2A, 2B, 2C on each piece accordingly.
Place pieces #1, 2A, 2B, and 2C right side up.
Using rubber cement, glue pieces 2A, 2B, and 2C in designated sections. Let dry.
Flip piece #1 so that the unprinted side is facing up. Glue the other 2B piece in 1B.
Erase pencil marks from 1A and 1C.
Fold 1C up, along fold line 2.
Apply a thin line of hot glue along the edge of 1C. Press down (onto 1B).
Repeat for the other side.
Add a small piece of Velcro to close the envelope.

Cut a small piece of Velcro. Ours measures 0.25" x 0.75".
Stick the hook and the loop pieces together.
Peel the paper backing off one piece.
Stick on the upper left corner of 2C.
Peel off the paper backing of the other piece of Velcro.
Now fold flap (1A) over and press down over 2C.

Open the envelope and slide a gift card inside.